The smart.Cleaner guarantees optimum view! Clear sight and improved visibility thanks to efficient cleaning! With the smart.Cleaner we provide a compact, powerful IP-washingwater-supply-unit. This washing system was especially developed for use in hazardous areas. Up to 4 ex-cameras could be connected.
Features.
Worlds first Ex-Wash Unit with Network Interface
Certification for Hazardous Areas (ATEX & IECEx)
Made of stainless steel (1.4301)
Controllable via Browser or VMS (VAPIX)
Plug & Play Process Connection
Washingwater Supply for 4 Cameras
Modular Water Supply (On-Site Water or Pressure Tanks)
Compatible with all SAMCON ExCam Cameras and ExConnection Rails with 24VDC Output
Explosion-Proofed Washingwater-Supply-Unit with ATEX and IECEx Certification
Thewasher kit smart.Cleaner consists of an outer housing and explosion proofed components (ExConnection Rail, Ex-Valves) in the inner. The components are certified both for european (ATEX) and international (IECEx) regulations. The ex-d housings' certification comprises ATEX group II for zone 1, 2 as well as 21 and 22 including the explosion groups IIC / IIIC.

Optimum View for up to 4 explosion proofed Cameras
Up to 4 ex-cameras could be cleaned at the same time.

What makes the smart.Cleaner that special?
"The washing system is controlled via IP. It posseses an I/O-modul. The cleaning fluid could be controlled directly via the camera or via the browser. The 4 valves are switchable very quickly and they are extremly sturdy." so the project manager.

Installation
The installation effort is low.
Modular Construction
The user can choose between 230 VAC or 24 VDC power supply. The water connection is variable: either the smart.Cleaner could be fed with cleaning fluid via up to 2 tanks per 10l water (also with antifreeze for low temperatures). The tanks could be pressurised manually or pneumatically. Or the smart.Cleaner is connected with a commen water supply.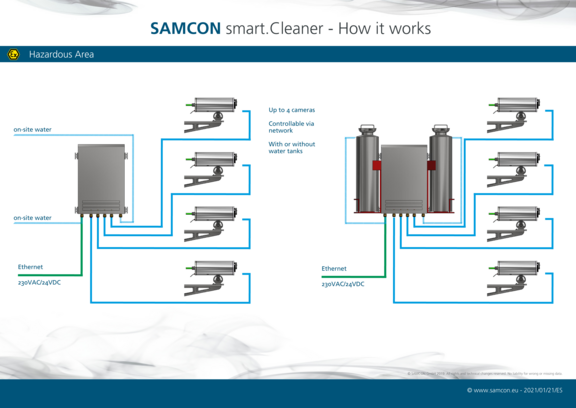 Questions about our products
If you have any questions about our products please contact our Sales Team.