Explosion Proof Cameras for Refineries and Fuel Depots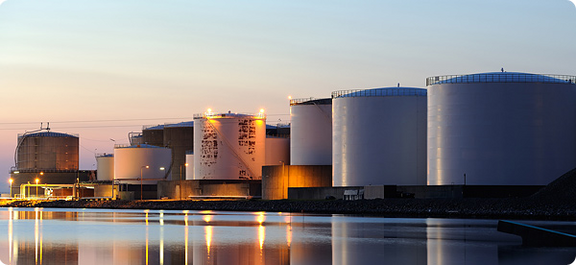 In most large refineries and fuel depot sites, process and safety monitoring requirements fit together seamlessly. The site can often be accessed at many points, by water or by land as the case may be. Filling and removal processes are decentralised, which means they are carried out at various points in the site. Nevertheless, operating procedures are often only controlled and coordinated from a central control room. If information about what is happening on site is important, an on-site inspection or maintenance tour can hardly be avoided. Last but not least, operational safety regulations increase the operators' responsibility and thus their safety requirements.
Safety technology in hazardous areas – eyes and ears in the field
Access control systems, cameras, intercom systems, and loudspeakers are all integral parts of industrial plants. However, if equipment or plant sections need to be installed in areas with potentially explosive atmospheres, even experienced project engineers can be pushed to their limit. On the one hand, the range of equipment available for hazardous areas is limited, and on the other hand strict rules must be observed when setting up installations in hazardous areas.
Possible uses and advantages of SAMCON camera systems
The cameras in our ExCam series work reliably, even under the toughest conditions. They are always safe and withstand heat, cold, vibrations and moisture.
The ExCam series only needs a single system cable. This means that only one cable has to be laid for the power supply, control signal, and image signal. Not only does this save material, but it also lowers the installation costs.
Thanks to its variofocal lens, the ExCam e.Vario video camera can be securely focused on an object. The incidence of light is regulated by a DC iris. The image signal can be integrated into any desired video management system, whether its digital or analogue!
The ExCam IPQ1615 is equipped with a powerful varifocal lens. The application possibilities of the ExCam IPQ1615 go even further: with a light requirement of only 0.05 lux, it is extremely light-sensitive and therefore perfect for day / night applications. It combines excellent image and video performance with advanced hardware and outstanding processing functions.
With the ExConnection Rail series, cameras can be connected and digitalised in hazardous areas, regardless of whether they use copper, FOC cables or WLAN signals.
Both camera systems and Connection Rails use open standard interfaces to collect data, and can thus easily be incorporated into existing systems.
Process monitoring – making decentralised processes centrally visible
Only very few fuel depots or refineries are supplied through direct pipelines. Often, substances are transported by tanker truck, train, or ship. The same applies to transporting the final product away. Strict rules are established for filling and removal procedures in order to ensure that safety and environmental protection requirements are met. Nevertheless, it can be necessary to monitor these processes on-site, and intervene to correct them if necessary.
All equipment in the ExCam series is fitted with DR irises and can thus adapt perfectly to changing light conditions.
The long-range model of the ConnectionRail series ensure that distance problems are solved and signals can be transmitted over any distance desired.
Record important incidents so that it is possible to reconstruct what happened "live" – even after the event.
Let cameras make decisions: using motion detectors, Connection Rails can notify the operator that a tanker ship is docking or a tanker truck driving up. With the ExCam IPQ1615 you can even go further. The camera is equipped with a Deep Learning Processor Unit (DPLU) and therefore ideal for analysis via Artificial Intelligence.
Why SAMCON?
Our products are always just tools for our project planning. None of our products emerged from a project without a requirement! We see ourselves as a solution provider. Our philosophy: to advise customers comprehensively. To find workable and pragmatic ways together. And of course to implement a project to the satisfaction of our customers. Check us out! Read our references and customer reviews. Please contact us!