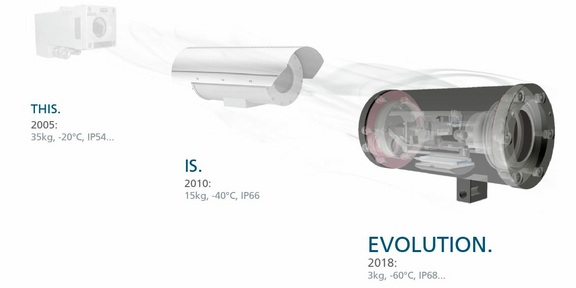 With our ExCam IPM3016, an ultra-compact network camera is available for hazardous areas and explosion risk zones!
The ExCam IPM3016 is an efficient IP megapixel camera which can be used in the hazardous area. Despite its ultra-compact design, it offers Full HDTV resolution (1080p) in combination with a wide-angle lens. In addition, the camera is certified according to ATEX, IECEx, and EAC-Ex suitable for hazardous areas in risk of gas and dust explosions.


Certifications and Zones:

What makes this camera so special? Why is this model better than the previous model?
The ExCam IPM3016 features a better sensor and therefor has an even better resolution than the previous model. The image quality is twice as high in comparison to the ExCam IPM3014 and thanks to progressive scan, the ExCam IPM3016 offers high-resolution images of moving objects in maximum resolution of up to 30fps: Without motion blur! The CMOS sensor provides multiple video streams at 3MP.
Why is the ExCam IPM3016 that economical?
The ExCam IPM3016 is a very compact and economical explosion proof camera. During its development we paid particular attention designing the mechanical adapters in such a way that the camera can be produced with only small production effort. A highly resistant and electrically insulating 3D-plastic adapter hosts, in just one component, the web server circuit board, the CMOS sensor, the lens as well as the temperature controller! Due to this, less space is required and installation times are reduced in comparison to regular sheet metal designs so that the total costs are reduced as well. This is a price adventage which our customers profit from.
Which field of view does the camera cover?
Lens
Iris
Horizontal AoV@16/9
Horizontal AoV@4/3
Megapixel lens 2.8mm
F2.6
90°
78°
For the ExCam IPM3016, a new ATEX and IECEx certificate was obtained – for which reasons?
On the one hand, the new certificates were supposed to reflect the current state-of-the-art GL 2014/34/EU as well as the standards EN/IEC 60079. On the other hand, with the new certificate we have extended the temperature range to what is technically possible. As a result, cameras of the ExCam series can safely be operated in a range of -60°C and +150°C.
In addition, certification can be extended at any time to cover different markets. For South Africa, for example, this has already been achieved with the MASC (Mining and Surface Certification).
Besides the European regulations (ATEX), the ExCam series is also certified according to international regulations (IECEx) as well as the Russian custom-union (EAC-Ex). The housings' certification comprises ATEX group I (mining) with a low risk of mechanical threat and ATEX group II (Gas and Dust) for zone 1, 2 as well as 21 and 22 including the explosion groups IIC / IIIC with a high risk of mechanical threat. In accordance with the requirements of the impact and free-fall tests (DIN EN 60079: 0 2012), the housings are suitable for fixed as well as mobile applications!
Are there further advantages of the EXCam IPM3016?
Solid and media resistant: The ExCam IPM3016 in the stainless steel housing only has a weight of 3,000 g. This means that our camera weighs only about a tenth of comparable cameras! With its length of just 158 mm and a diameter of only 79 mm, the ExCam IPM3016 is smaller than some camera models for safe areas – but with more powerful functions.
Due to the high-quality materials used for the ExCam Series, it meets the requirements of a comprehensive media resistance list! It is also possible to freely select different stainless steel alloys to reflect the best execution for your application. Even a coating or powder coating of the housing is feasible to realize individual media resistance requirements.
The particularly designed GYLON (PTFE) flat sealing does not only ensure the housing to be watertight (IP68) but also supports resistance towards several chemicals. The extremely robust and scratch-proof as well as high-impact resistant borosilicate glass fits perfectly into the high-quality materials of the housing body.


Click at the picture to view and control our camera live! If you want to test further camera functions log in as a user (user name: demo/password: demo).
Reduced installation costs & Power over Ethernet (PoE)
A particularity of the ExCam IPM3016 is that the data streams as well as the power is transmitted via a single cable which means that for the installation within the safe area, only a PoE switch or a PoE Midspan is required.
As the power supply of the camera is executed via Power over Ethernet (PoE according to IEEE 802.3af) via the network, no costly installation of a separate power supply is required.
Ethernet cables for hazardous area
Our network cable is specifically designed for hazardous areas.! It is, thanks to the polyurethane coating, mechanically extremely robust and also UV resistant and flame retardant according to DIN EN 60079-14. Due to the high wire size (AWG 24) and the shielded Cat6 twisted pairs, even greater distances can easily be covered!
Multistreaming – Several different video streams at the same time!
It is possible to provide several H.264 video as well as motion JPEG video streams simultaneously – either at full picture rate or individually optimized to meet different quality requirements and bandwidth restrictions.
Accessories
Other Accessories
Hinge attachement, Thermo isolator, Twin-adapter, SuperClamp-Mounting adapter
Questions about our products
If you have any questions about our products please contact our Sales Team.