Explosion Proof Cameras for Biogas Plants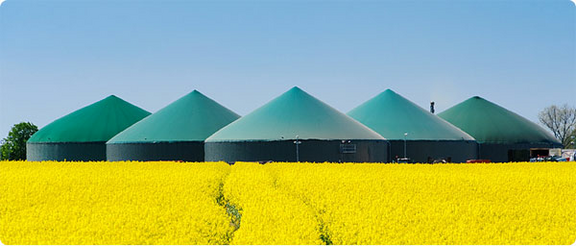 In times of thoughtful climate policy, biogas plants represent one of the most popular alternative energy sources. This is not just because they are politically desired and promoted, but also because plenty of biomass such as liquid manure, agricultural waste, and silage is available at low cost.
The way a biogas plant works is based on a simple biological principle: organic decomposition. After the fermenter is filled with biomass, initially biogas, and then usually in a second stage electricity and heat, are generated through fermentation.
Why are explosion-proof cameras even needed for biogas plants?
The substrate is often kept sealed airtight in the fermenter for 30 days in temperatures between 35° and 55°C in order to ensure that an anaerobic decomposition process takes place. Micro-organisms decompose the substrate, generating waste gases such as carbon dioxide, sulphuric gas, water vapour, and methane. The greatest danger for biogas plants lies in the fact that the gases produced are explosive and can be ignited by a spark.
Sight glass and camera – keeping an eye inside the fermenter!
However, so that biogas plants can be managed optimally and run as efficiently as possible, the plant operator needs certain key information: what is the condition of the biomass (substratum) in the fermenter? How high is the filling level? Are there solid objects floating on the surface? Is the substrate foaming? Is the agitator still working properly?

These questions can only be partially answered or not answered at all, by using standard measuring technology. In order to nonetheless be able to view the process, sight glasses are installed in fermenters. Cameras that are attached to such sight glasses have certain advantages. On the one hand, they save the plant operator long trips. But much more importantly, they can see more than the human eye can detect. The information serves as an important basis to enable personnel to make the right decisions when controlling the levels in the plant:
The ExCam niteZoom video camera, for example, only needs 0.0004 lux to provide clear, high-contrast video-footage – a fraction of what the human eye needs. It thus provides information that is normally not available. Furthermore, these values make it the most light-sensitive explosion-proof camera of its size. For more information about the ExCam niteZoom, watch the demo video.
Is it necessary to monitor all processes at all times? Or is it enough if the system automatically sounds the alarm if something goes wrong? A motion detector integrated into the video server reports information to the control room as soon as a certain condition is reached. This means, for example, that foam can be detected before it gets into the gas pipes and damages them. The advantage of the system is that operators do not need to constantly monitor all routine processes, but only receive the most important information. This means lower staffing costs for the plant operator. For more information, watch the demo video.
Biogas plants are not yet mass-produced, but are manufactured by widely different companies and are also often adapted to the specific requirements of the operator and local conditions. SAMCON's wide range of products takes this factor into account: you will find the right camera in our range for any biogas plant, silo, cogeneration unit or post-fermenter. In addition, thanks to the extensive range of accessories – from illumination systems, to mounting adapters, to wall brackets – any camera can be installed in any plant.
Display and control – even with smartphones
ConnectionRails convert video footage and control commands into digital network signals and store them on the intra- or internet. This lays the foundation for almost unlimited signal availability:
ExCam ⇒ Video Server ⇒ Computer: the simple plug & play solution for explosion-proof cameras. Cameras in the ExCam series are directly connected to the video server. The installation costs are thus limited to mounting the camera and laying the connecting cable to the computer. Expensive controllers, joysticks, or other peripheral equipment are not required.
Full remote access even for unmanned plants: so you can access the camera system at any time — not only via the control room, but also via any PC or even a smartphone.
Why SAMCON?
Our products are always just tools for our project planning. None of our products emerged from a project without a requirement! We see ourselves as a solution provider. Our philosophy: to advise customers comprehensively. To find workable and pragmatic ways together. And of course to implement a project to the satisfaction of our customers. Check us out! Read our references and customer reviews. Please contact us!